"The Montessori Child" book by Junnifa Uzodike and Simone Davies
A PARENT'S GUIDE TO RAISING CAPABLE CHILDREN WITH CREATIVE MINDS AND COMPASSIONATE HEARTS
Written by two AMI Montessori educators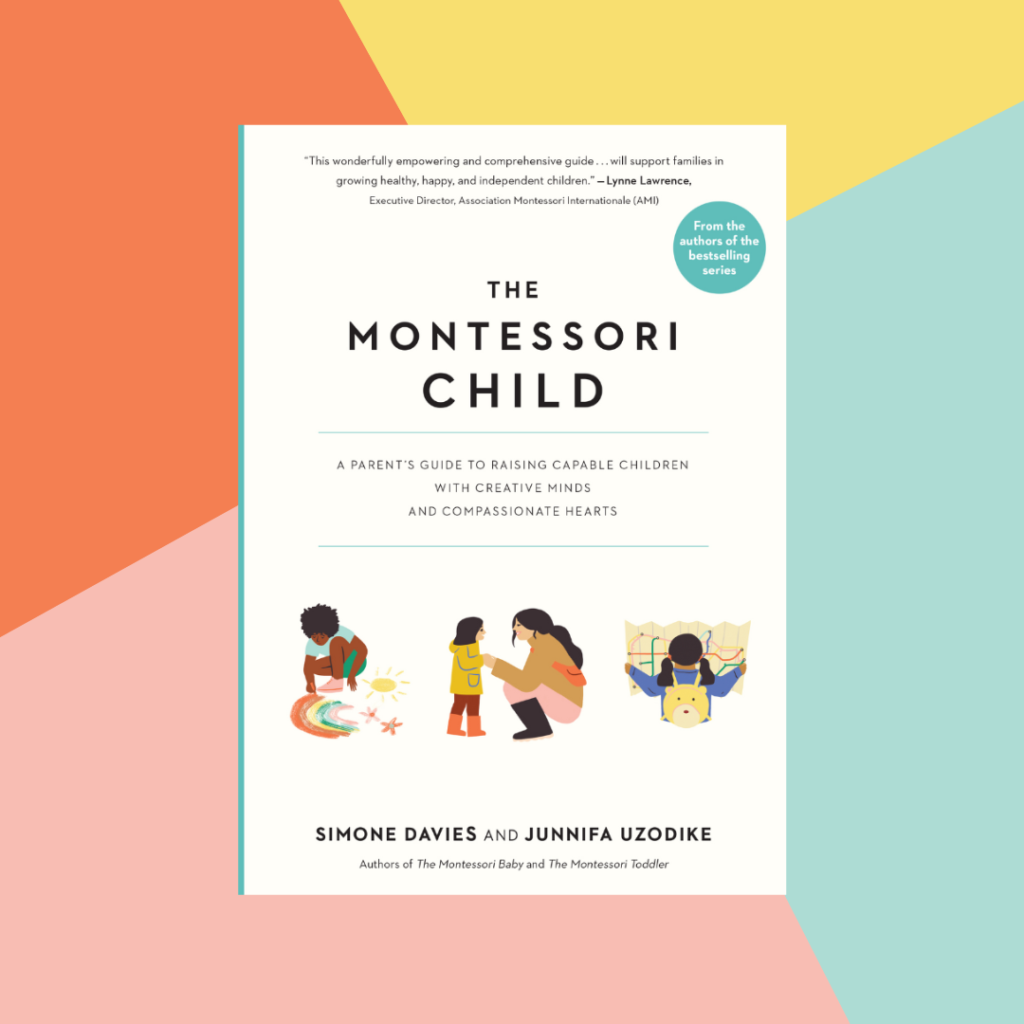 The Montessori Child is now available to preorder on Amazon or via any bookseller!

Bookshop.org
Amazon.co.uk (United Kingdom)
Indigo books (Canada)
Booktopia (Australia)
Audiobook available at Audible.com etc
plus other online retailers + your local bookstore
Translations to come soon!
---
About the book
The Montessori Child picks up where the bestselling series of The Montessori Baby and The Montessori Toddler leaves off. This is an everything-you-need-to-know guide to raising your school-aged child (from 3–12 years old, with a bonus chapter for the teen years) in the Montessori way.
The book will guide parents and caregivers in using the principles of Montessori to raise their school-aged children in ways that assist their development and foster a respectful relationship between parent and child and world. When children are given independence, the tools to succeed, and the encouragement to build on their abilities, it's amazing what they can achieve.
We will give your guidance how to encourage your child's innate curiosity and independence while creating a family life with more connection, collaboration and joy. Including how to:
Be your child's guide while creating the space they need to develop independently
Support your child's individual development as well as how they contribute to and become part of society
Prepare your home to be welcoming spaces to explore, encourage independence, and help your child be part of the family
Create Montessori activities that follow our child's unique interests, timeline and way of learning
Foster grace and courtesy to help your child learn how to respect others and respond to common situations, positive and negative
Show up for your child and discover the joy of seeing the world through their eyes
And answer all the difficult questions that come up when raising children
The book includes dozens of hands-on activities to help foster your child's love of numbers and literacy, art and science, and ones that encourage community-building, social awareness, and connection with the natural world.
The Montessori Child offers a powerful alternative for parents who feel that family life has gotten too complicated by showing families how to make more intentional choices for your family, how to better understand the needs of your children, and support them as they develop their unique potential.
---
"The Montessori Baby" book by Junnifa Uzodike and Simone Davies
A PARENT'S GUIDE TO NURTURING YOUR BABY WITH LOVE, RESPECT AND UNDERSTANDING
Written by two AMI Montessori teachers and parents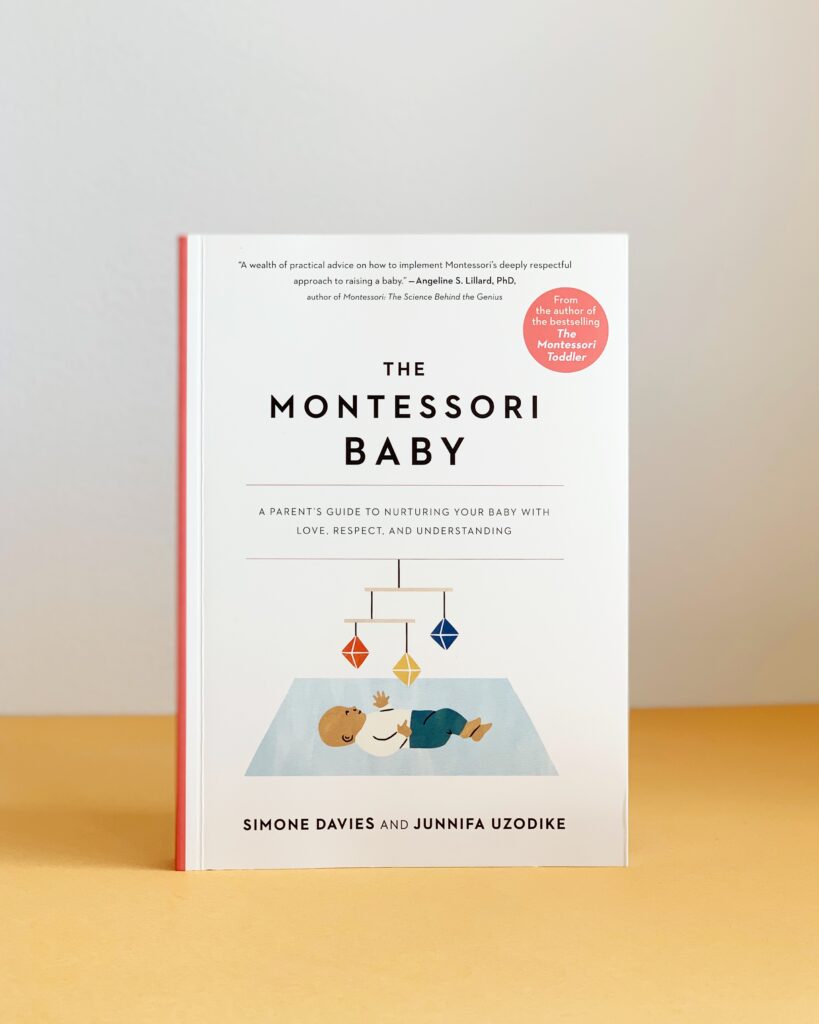 The Montessori Baby is now available on Amazon or via any bookseller!
plus other online retailers + your local bookstore
and to be translated into other languages in the coming 12-18 months
(see below)
---
Translations
Brazil – Portuguese / Bulgurian / Chinese – Simplified / Dutch / Estonian / German / Greek / Indonesian / Italian / Korean / Norwegian / Poland / Portuguese / Russia / Slovakia / Vietnam
* to have the book translated into another language, an established publisher can put in a proposal to purchase the rights to translate and distribute the book
---
What people are saying about "The Montessori Baby"
From our early readers:
"A wealth of practical advice on how to implement Montessori's deeply respectful approach to raising a baby" – Angeline S. Lillard, PhD, author of Montessori: The Science Behind the Genius."Thanks Simone, I am loving it!" – Julia (3 children, pregnant with 4th)"In my opinion your book should be mandatory reading for all parents. I feel very lucky to get the chance to read the book already, so again, thank you so much." Mila (mother of a 4 month old baby and Montessori teacher for 6-12 year olds)"I really think you and Junnifa should be really pleased with the work you've created here. Thank you so much for sharing this early look at your book! I can't wait to rave about it and give it away and tell everyone about it." Meghan (Montessori teacher and expecting her 4th baby)
"I'm not a baby mama yet, but I was eager to read this book as a way of preparing to become one. It gave me so much peace of mind, joy and inspiration!
I've always found the Montessori principles intriguing but ambiguous, so this book made them very clear and straightforward for me. It's actually really comprehensive. The book starts by laying out what the Montessori education is in detail, followed by a chronological guide from conception to the baby's first six weeks of life (perfect for a mama still in preparation!). This rich guide also contains information on how to prepare your home, how to think of yourself as a parent, and finally the juiciest part – the activities for babies as they grown, from language to movement, music and more. It's packed with practical tips.
In other words, this book had everything I needed to know (and didn't even know it) before I even started to try for a baby!
What's more, they layout and graphics are great and easy to read. Even better – not too complicated to apply." – Wendy, goodreads.com
---
It's Time To Change The Way We See Babies
Now it's baby's turn! Filled with the values, advice, and aesthetic that have made The Montessori Toddler a parenting bestseller, with over 200,000 copies in print, The Montessori Baby is here to help new parents find the support and peace they crave.
Cowritten by Montessori Toddler author Simone Davies and fellow Montessori educator Junnifa Uzodike, The Montessori Baby draws on the child-led principles of the Montessori educational method to foster a first year defined by love, respect, understanding, and a surprising sense of calm.
Maria Montessori observed that all children have what she called "an absorbent mind," ready to drink it all in, and that the role of parents is to mindfully assist in their learning and development. With babies, that means less is more—a lot less stuff, for sure, but also less speed; slow way down, and avoid rushing through feeding, diaper changes, and the like.
It means establishing a "yes" space—where baby can safely explore absolutely everything, whether with hands or mouth. It means setting up activities to help promote baby's movement and language development, but then to step back—the parent's role is to prepare the environment, not be the entertainer. There are tips on how to set clear and kind boundaries, how to create a secure sense of attachment, how best to speak to baby, and even what kind of toys to use (mobiles especially)—all through the Montessori lens.
And like its predecessor, The Montessori Baby is that rare parenting book that's a pleasure to look at—beautiful color illustrations and a bright airy design reinforce the book's direct and jargon-free approach. It may also inspire parents to look at their own homes in a different way and use the Montessori aesthetic to create an environment of uncluttered calm. The whole family will benefit.
Beautiful illustrations by Sanny van Loon, book design by Hiyoko Imai, and contributors from all around the world practising Montessori (Nicole Kavanaugh, Raising Yannis, Forest Montessori, Montessorian by Heart, Montessori Chapters, Montessori in Real Life). I'm so grateful to these beautiful souls – an honour to work with all of them and we cannot wait to help even more families apply the Montessori principles from birth.